Within an estuary, there are many habitat types. The habitat type can be determined using elevation, water regime, and soil and vegetation type. Knowing the types and locations of habitats within an estuary is important when creating ecosystem-based management plans. Habitat types are important for understanding the dynamics of the estuary. The vegetation present can provide information including the soil type and salinity levels based on the plants salinity tolerance.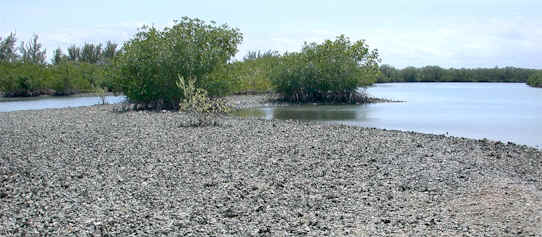 The estuarine system features include tidal habitats and adjacent tidal wetlands enclosed or partially enclosed by the estuarine boundaries whose organisms are capable of life in aquatic or semi-aquatic conditions. Tidal habitats are defined as areas where the substrate is exposed to tidal action and it also includes the shorelines that experience high and low tides (Cowardin et al. 1979). Estuaries are protected by strong ocean current by bar-built estuaries and peninsulas. Typical estuarine plants and organisms are mangroves, oyster, crabs, fish, and shrimp. Classification of Wetlands and Deepwater Habitats of the United States (Cowardin et al. 1979​), describes characteristic features of an estuary as shown below.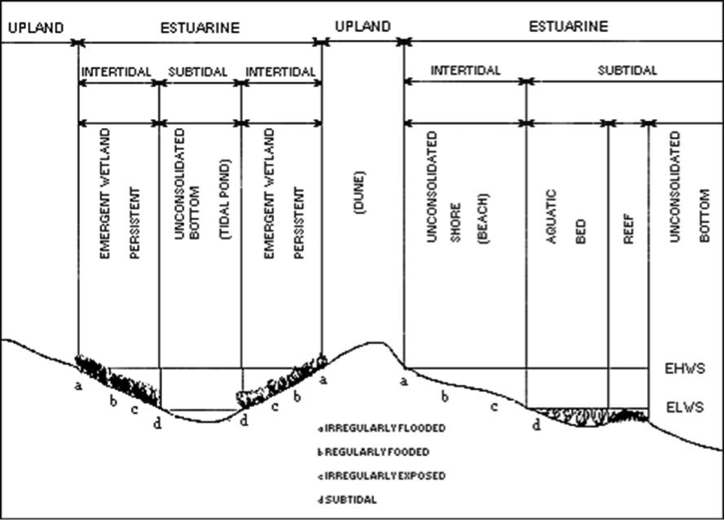 The classes represent the habitat types. The above information as well as the dominant vegetation for estuarine habitats including unconsolidated bottom, aquatic bed, reef, unconsolidated shore, and emergent wetlands can be found online.
For a complete list of vegetation, refer to the 2012 National Wetlands Plant List that can be found at the U.S. Fish and Wildlife Services' website.